#GBS18 Event Programming: Women in Business
It has been a century since the Representation of the People Act 1918 came into force, giving all men and some women the vote for the first time. It is also the centenary of the Parliament (Qualification of Women) Act 1918 which allowed women to become MPs. That year, in the December 1918 general election women voted and stood for parliament for the first time, allowing women's voices to be heard in government.
At #GBS18, we will be reflecting upon that historic moment and exploring further the role that women in particular play in Gloucestershire's business community today.  With a dedicated thread in the programme, we will explore the positives, challenges and how women see their future in the business world. We will take the time to address the issues around skills, pay equality, health & wellbeing of the workforce just as a start.
You can be involved in planning any of the programme threads and take part in the discussions by contacting us on directors@business-shows.co.uk

WIN an opportunity to drive a Tesla
Our #GBS18 launch event on 20

th

February will see the launch of a great competition from a third generation Gloucestershire family business, Cheltenham-based Cleevely Motors, to win a rental on a Tesla Model S.
The competition marks the launch of Cleevely Electric Vehicles a new rental service that will take the family automotive business forward into the future. The electric vehicle rental service is the first of two additional areas that the team are launching this year, which include an EV service and re-sale business.  Cleevely Electric Vehicles will complement the existing garage giving the Company the leading edge as one of the first in the region to fully embrace the innovations in the automotive industry.
The Gloucestershire Business Show is working with Cleevely Electric Vehicles to look at the future of the sector and embrace the county's business innovation, the rich values and strengths that a family business brings and the fast-moving developments in the automotive sector.  Cleevely Electric Vehicles will be exhibiting at #GBS18 with an example of their new fleet in the heart of the Show.
Matt Cleevely, MD of Cleevely Motors commented:
"I'm very excited about launching Cleevely Electric Vehicles at the show, with my business partner David Smith. We have been working hard to make sure we deliver a high-class experience, in the cutting-edge Tesla Model S. These cars are the current pinnacle of electric vehicle technology and we want to make them available for anyone looking for a unique experience, gift or who is interested in owning an electric vehicle. The Gloucestershire Business Show is an ideal platform for our company, being able to reach the local business community is very important, and we believe we are offering a service that we be beneficial to all, as the dawn of electric vehicles reaches us"
Revolution Slider Error: Slider with alias moving-background-2 not found.
Maybe you mean: 'slider-3' or 'sgbs-slider'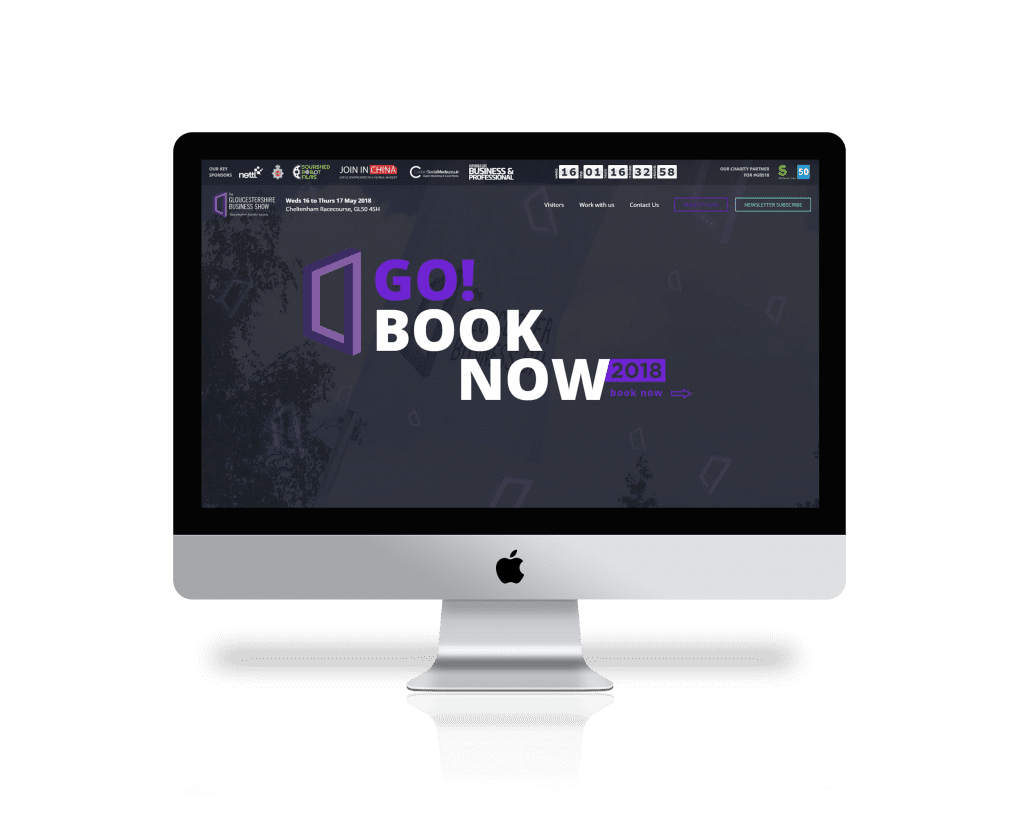 #GBS18 New Website
We're thrilled to have launched our new website for #GBS18 in January.  This heralds a new working relationship with Nettl of Cheltenham and Gloucester which sees them become Associate Sponsors to #GBS18 and pick up key roles with us across web development, business development and brand support at the show in May.
Rick Notley for Nettl joins the business management team for #GBS18 and is available to offer some great advice not only to our own team on brand development but also, extending that advice to sponsors and exhibitors who want to focus on getting the best possible return on investment as they get involved in #GBS18.
We're constantly building and developing the website capabilities and doing our best to keep it up to date with information.  We hope you like the new design for #GBS18, our #SGBS18 website will be refreshed with the new look design early in 2018.
#GBS18 Launch Event
We're pleased to announce our #GBS18 launch event which will be held
@ the Wilson Café at the Museum and Art Gallery in Cheltenham
on 20th February 7:30am – 9:30am.
Please do join us for breakfast to celebrate the Gloucestershire Business Community and the plans for #GBS18 on 16th & 17th May at The Centaur.
The event is free of charge and sponsored for us once again by Fosters Event catering, where we will enjoy a glass of wine and light refreshments from their talented chefs.
As well is a valuable opportunity for networking, we will be hearing from a number of Gloucestershire's leading businesses and the leaders who have been working with us
to deliver a great programme for the 2018 event.
Tickets are in limited supply and while we will run a waiting list, you are advised to book in early.
We're looking forward to seeing you there to hear about a very special #GBS18 event.  
Revolution Slider Error: Slider with alias moving-background not found.
Maybe you mean: 'slider-3' or 'sgbs-slider'

#GBS18 Sectors: The Information Security Zone
We're working hard with our planning team for #GBS18 and we're really grateful to Gloucestershire Police, BPE Solicitors, DPS Cyber Security, the FSB, The National Cyber Security Centre, South West Regional Cyber Crime Unit, RawIT, TechOp, XQ Cyber, Borwell, CFMS Ltd, Bluefin Insurance, Logically Secure, System Force IT, Cardwave and CLK Media for their support and advice.
The #GBS Information Security Zone will feature spaces and event content for case studies, password checkers, phishing & hacking demos, hands on demonstrations, and 1:1 advice from key experts on digital and physical protection for Micro and SME businesses. We will also cover social engineering, business costs, resilience and impact of downtime, backups, GDPR implications and much more.
The team are looking at providing specialist advice on a drop in, clinic or as a bookable private interview space where any business across any sector or size can seek either general or highly specialised advice from many of the county's leading experts and organisations.
If you're feeling confused by information that is coming at you about any of the above mentioned issues, then visit the team, have a cup of coffee and speak to one of our Cyber ambassadors who will be able to find the right experts to talk though your concerns on a 1:1 basis.